What we do
We are a multidisciplinary neurogastroenterology research group comprising approximately 15 principal investigators and additional support staff from a broad range of disciplines (including adult and paediatric neurogastroenterologists, GI pathologists, physiologists, psychologists and psychiatrists, surgeons, immunologists, neuroscientists, and physicists) working on a wide range of translational research programmes.
Principal areas of research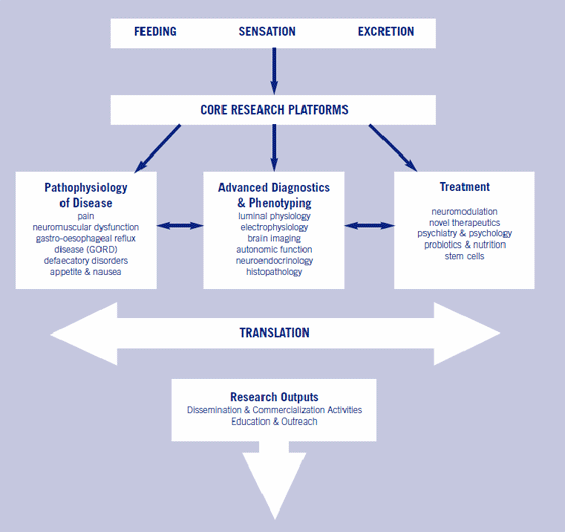 Proposed departmental structure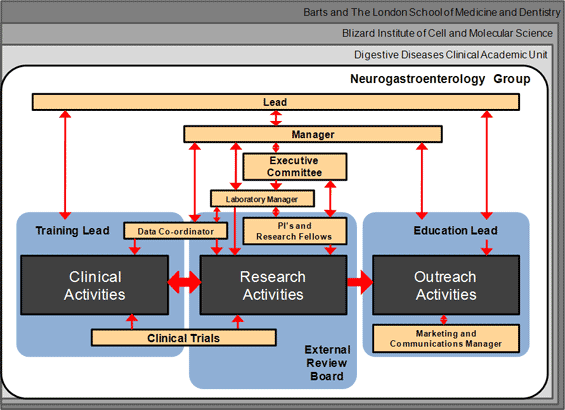 External Advisor
Professor David Alpers is the William B. Kountz Professor of Medicine in Geriatrics, Co-Director of the Center for Human Nutrition, and Pilot and Feasibility Program Director for the CNRU at Washington University School of Medicine in St Louis. He also serves as co-director of the Nutrition Support Service at Barnes-Jewish Hospital in St Louis.
History of The Wingate Institute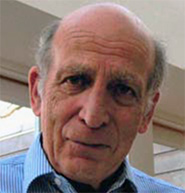 The Wingate building was specifically designed and equipped for interdisciplinary (medicine, surgery, and physiology) human and animal research in gastroenterology. Opening in 1981 as the Gastrointestinal Science Research Unit (GISRU), it was the scene of pioneering work in the 1980s and 1990s on brain-gut interaction, enteric neuropathology, and new techniques for prolonged recording of gut function, hosting visitors from 31 countries. In 2002, it closed for extensive remodeling and expansion, reopening in 2004 as The Wingate Institute in recognition of the HH Wingate Foundation that funded the enterprise. David Wingate (pictured) was Director of GISRU from 1981 to 2000. Under his successor, Qasim Aziz, it is now dedicated to neurogastroenterology.