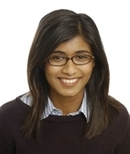 Madusha Peiris
Post-Doctoral Research Fellow
Madusha completed her BSc (Hons) at the University of Queensland, Australia in 2002, majoring in Biomedical Science and Genetics. Her honours thesis, 'Investigation of RNA interference as a molecular tool for identification of P .falciparum gene function. ' was carried out at the Queensland Institute of Medical Research and majored in Parasitology and Molecular Biology. In 2004, she began reading for her PhD entitled 'Functional Roles of Peroxisome Proliferator-Activated Receptor β/δ in a Model of Relapsing-Remitting Experimental Autoimmune Encephalomyelitis' at the School of Pharmacy, University of Queensland. Following completion of her PhD in 2008, Madusha joined the Wingate Institute of Neurogastroenterology in the same year where she currently holds the position of post-doctoral research fellow.
Project: A Novel Pre-Clinical Model of Visceral Pain
Unexplained abdominal pain presents a significant healthcare burden and one in which there is a current lack of effective treatments mainly because of insufficient understanding of how this pain occurs. Drug companies, despite recent considerable investment and promising research studies have failed to develop drugs with better than modest efficacy in clinical trials. Furthermore, those with efficacy have suffered from the perceived need to develop absolutely 'clean' drugs in respect of side effects. The molecular processes (interactions of small proteins) underlying pain arising from the gut have been studied in small animals and in some tissues removed from humans. However, there is currently no human model in which to observe neuronal activity using electrophysiology techniques allowing for translational studies. The appendix is a common site of pain and is also an organ that is frequently removed at surgery not only for appendicitis but also incidentally with colon cancer. We intend to expose the whole appendix to pain-causing stimuli whilst observing the firing of its associated nerve. We can then measure the molecules that cause this and modify their activity accordingly, first with known drugs, and then with potentially new treatments.
This 'first in human' model will thus have the potential to help 'bridge the gap' between fundamental basic science and pre-clinical/clinical human studies. By overcoming this translational bottleneck, it has potential to help in the future development of new therapies.
Publications:
Key publications:
Madusha Peiris, David Bulmer, Mark Baker, George Boundouki, Sid Sinha, Anthony Hobson, Kevin Lee, Qasim Aziz, Charles Knowles. Human visceral afferent recordings: Preliminary Report. Gut 2010; 60(2):204-8.
Irina Vetter, Wei Cheng, Madusha Peiris, Bruce Wyse, Sarah Roberts-Thomson, Gregory Monteith and Peter Cabot. Rapid, opiod-sensitive mechanisms involved in TRPV1 sensitisation. J Biol Chem 2008; 283:19540-50.
Madusha Peiris, Gregory R. Monteith, Sarah J. Roberts-Thomson and Peter J. Cabot. A Model of Experimental Autoimmune Encephalomyelitis (EAE) in C57BL/6 Mice for the Characterisation of Intervention Therapies. J. Neurosci. Meth. 2007; (163):245 – 254.