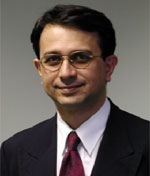 Qasim Aziz

Professor Aziz completed his undergraduate medical training in his native Pakistan in 1983. After initial training in Pakistan he came to the United Kingdom for higher medical training. He started his research career at the University of Manchester and obtained his PhD in 1996. He held posts of Lecturer, Senior Lecturer, and Professor of Gastroenterology at the University of Manchester, and is now Professor of Neurogastroenterology at Barts and The London School of Medicine and Dentistry at Queen Mary, University of London. Professor Aziz's research is aimed at understanding the neurophysiological basis of human brain-gut communication. He has made an important contribution to the understanding of how gut pain is processed in the brain, and how both inflammation/injury to gut nerves and psychological factors can lead to the development of chronic gut pain.
Professor Aziz has obtained national and international awards for his research the two most important being the British Society of Gastroenterology Research Gold Medal and the American Gastroenterology Association, Janssen Award for Basic and Clinical Research. He has published numerous original articles in reputed medical journals such as Nature Medicine, Nature Neuroscience, Lancet and Gastroenterology. He has until March 2007 held the position of Chairman, Neurogastroenterology and Motility Section of the British Society of Gastroenterology, and is a member of the Association of Physicians and Surgeons of UK and Ireland.
Currently he is an executive committee member of the European Society of Neurogastroenterology and Motility and also a member of the United European Gastroenterology Federation Education Committee.
Research interests:
Mechanisms of visceral pain in health and disease
Role of psychological factors in visceral pain perception
Psychophysiological factors mediating inter-individual differences in pain perception
Neurophysiological basis for satiety and nausea
Joint hypermobility and unexplained gastrointestinal symptoms
Publications:
Van Oudenhove L, McKie S, Lassman D, Uddin B, Paine P, Coen S, Gregory L, Tack J, Aziz Q. Fatty acid-induced gut-brain signaling attenuates neural and behavioral effects of sad emotion in humans. J Clin Invest. 2011 Aug 1;121(8):3094-9. doi: 10.1172/JCI46380. Epub 2011 Jul 25. PubMed PMID: 21785220; PubMed Central PMCID: PMC3148741.
Coen SJ, Kano M, Farmer AD, Kumari V, Giampietro V, Brammer M, Williams SC, Aziz Q. Neuroticism influences brain activity during the experience of visceral pain. Gastroenterology. 2011 Sep;141(3):909-917.e1. Epub 2011 Jun 12. PubMed PMID: 21699797.
Zarate N, Farmer AD, Grahame R, Mohammed SD, Knowles CH, Scott SM, Aziz Q. 'Unexplained gastrointestinal symptoms and joint hypermobility: is connective tissue the missing link?' Neurogastroenterol Motil 2010; 22: 252-e78.
Coen SJ, Yágüez L, Aziz Q, Mitterschiffthaler MT, Brammer M, Williams SC, Gregory LJ. 'Negative mood affects brain processing of visceral sensation'. Gastroenterology 2009; 137: 253-61.
Paine P, Kishor J, Worthen SF, Gregory LJ, Aziz Q. 'Exploring relationships for visceral and somatic pain with autonomic control and personality'. Pain 2009; 144: 236-44.