Oncosis is the induction of necrosis by a nonphysiological event resulting in cell swelling as opposed to apoptosis where there is cell shrinkage, see figure below.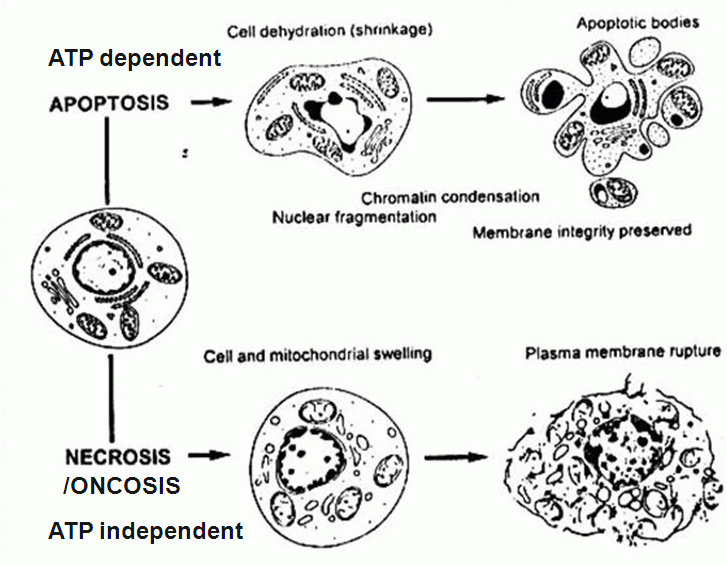 Oncosis can be induced by heat shock (56C or 42C), sodium azide (1% solution), Triton X-100 (0.01% solution) or drugs used to induce apoptosis at a higher concentration. Necrotic cells can be derived from the induction of apoptosis or oncosis and refers to the necrobiological events after membrane disruption. During oncosis the cell swells as does cell organelles such as mitochondria but the plasma membrane remains intact. Although it has been reported that phospholipid asymmetry is lost and the externalized phosphatidylserine can bind annexin V this is not part of the oncotic process, see figure. This is followed by the rupture of the plasma membrane during oncosis or the necrotic stage of oncosis leads to the release of proteolytic enzymes causing damage to the surrounding tissues, see figure for comparison of oncotic and apoptotic cells.
Oncotic cells can be recognized by a characteristic pattern of morphological, biochemical and molecular changes, which may be broadly and chronologically defined as:
Morphological Changes
Cell swelling
Loss of membrane integrity
Organelle swelling
No DNA laddering
Functional/Biochemical Changes
Free calcium ion rise
Metabolic failure
Loss of mitochondrial membrane potential
Loss of plasma membrane potential
Ion channel involvement
Phosphatidylserine externalization
PARP
Proteolysis
DNA denaturation
Calcium regulated protein involvement
RIP Kinase involvement
Stimulus
Bacterial toxins
Metabolic poisons
Ischemia
Stroke
Calcium overload
Heat shock
Many of these changes may be measured by flow cytometry and some are described below.
Publication.
G Warnes, S Martins. Real-time flow cytometry for the kinetic analysis of oncosis. Cytometry 79A, 181-191, 2011.
A. Tarnok. Review of Real-time flow cytometry for the kinetic analysis of oncosis. Cytometry 79A, 177-178, 2011.